Physical Security
HTS Voice & Data Systems integrated technologies division designs, installs and services electronic security systems for commercial businesses with solutions that safeguard your people and property and keep you in control. Our solutions cover simple to complex intrusion systems, access control and video surveillance from industry leaders.
Intrusion Systems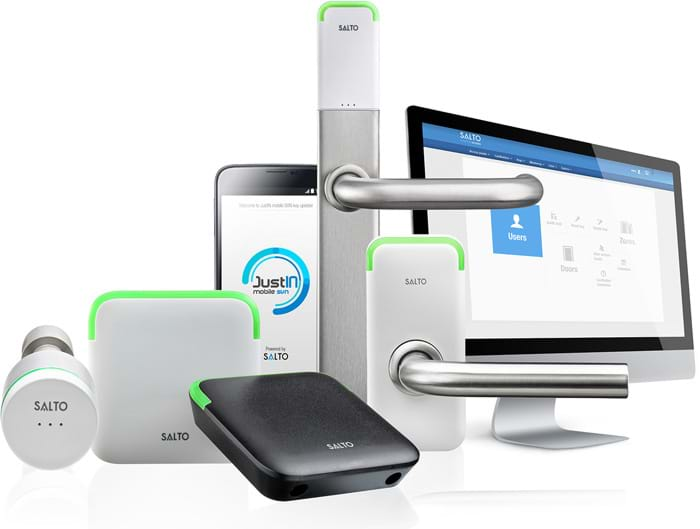 Intruder detection and alerting is the first defense against loss and destruction of property. Our specialists work to identify your most vulnerable points of entry. Then we design a system and plan to detect and alert when those points of entry are compromised.
Intrusion systems appears to be very straight-forward and simple once you determine the right combination of door and window contacts, motion detectors, glass-break sensors and beams, but at HTS we specialize in commercial solutions and that comes with added considerations and planning.
HTS has partnered with United Central Control and Alarm.com to respond and report on all facets of your intrusion system. Since 1982 UCC has been providing monitoring solutions for all types of systems and platforms. They are designated a Five Diamond Central Station by the Central Station Alarm Association and are a ASAP to the PSAP participating central station. For a fully integrated solution, all HTS monitored solutions come with Alarm.com.
Access Control
Take your intrusion detection to the next level with an advanced access control system that can help you manage and track the perimeter access to your building and restricted areas; we make it easy to let the right people in and keep the wrongs ones out. In addition, mechanical key management is costly, insecure and a hassle. Upfront costs of replacing master keys, drilling out locks, updating all affected users' keys, plus indirect costs like maintenance team productivity can be substantial. When can even pair the solutions with your video management systems, alarm system and make your building come to life.
Security Cameras
Video surveillance is vital for all businesses and institutions and the convergence of video and IT networks offers as many challenges as it does capabilities. Our technical team will help design, implement and manage a video solution that provides streaming and recording with remote access and event-based video capture so you can easily locate and document what's going on at your facility in real-time and for forensic analysis.
Our solutions can provide the basic of needs and the most advanced applications that face today's businesses from the leaders in the industry.
Video Surveillance Partners
On-Net Surveillance Systems, Inc. (OnSSI) was founded in 2002 with the goal of developing comprehensive and intelligent IP video surveillance management software. OnSSI's Ocularis IP security and surveillance VMS platform increases security, reduces operational costs, and helps organizations move closer to prevention. Ocularis delivers open architecture, flexibility, and scalability for a range of applications including education, gaming, government, healthcare, manufacturing, public safety, transportation, and utilities. OnSSI is headquartered in Pearl River, New York and has representation in over 100 countries. With its acquisition of Germany-based VMS company, SeeTec AG and the launch of Ocularis 5, OnSSI continues to drive global expansion and technological innovations.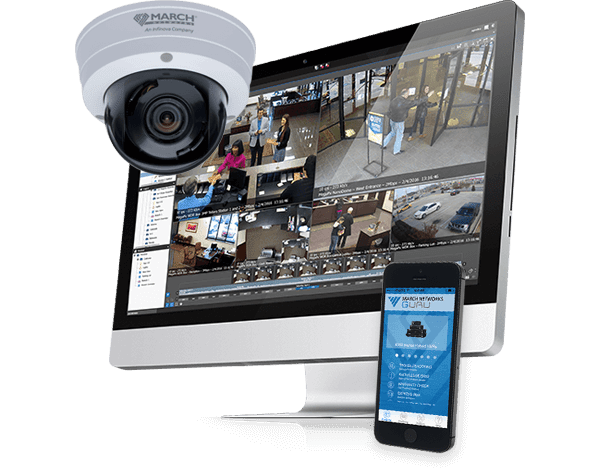 We are a leading provider of IP video surveillance solutions used by some of the world's largest organizations for advanced security, loss prevention, risk mitigation and operational efficiency. Our product portfolio includes powerful Command video management software (VMS), high-definition IP cameras, encoders, hybrid network video recorders (NVRs/DVRs) and innovative business intelligence applications that help customers increase the return on their technology investments. March Networks software and systems are currently used by financial, retail, transportation, commercial industrial, government and education customers in more than 70 countries.
Since established in 2012, AVYCON is the proud global market leader in the video surveillance industry. We are enabled with innovative technology and solutions, providing high performance and professional security and video surveillance products. We pride ourselves on manufacturing and supplying state-of-the-art products and providing beyond exceptional technical support and customer service. Our products are readily used to fulfill commercial and residential purposes. We are confident in the excellency of our products and services, and as we grow, we will continue to advance in the industry by offering incomparable, dependable, and leading-edge products to our customers.
AVYCON products are available through major distributors. Our highly efficient U.S. distribution facilities are kept fully stocked and ready to meet demand.
Founded in 1998, Milestone Systems is a world-leading provider of open platform IP video management software (VMS) with headquarters in Copenhagen, Denmark. Our objective is to improve our clients' organizational processes and increase overall security through the management and distribution of digital video data. Since 2014 a stand-alone company in Canon Group.
All Milestone products are easy to use and enable users to view live video, play back recordings, investigate suspicious incidents and export video evidence. With Milestone, users have the capability to increase the size and complexity of their installations according to their needs. Milestone's powerful ecosystem consists of more than 8,000 partners around the world including camera manufacturers, software developers, distributors and resellers. Milestone solutions are available in most countries around the world, with regional offices and sales representatives in more than 18 countries.
OpenEye is an innovator in the design and development of cloud-centric software solutions for video management, business intelligence, and loss prevention. All OpenEye Web Services platform software is developed in Liberty Lake, Washington and many of OpenEye's products are made in America.
Many industry innovations have been released under the OpenEye name including arguably the first DVR capable of recording 120 images per second. OpenEye followed up this achievement with 240IPS and later 480IPS models far ahead of most other DVR manufacturers. Today, OpenEye remains committed to the advancement of its current technologies but continues to develop new and exciting products based on emerging IP video technologies.